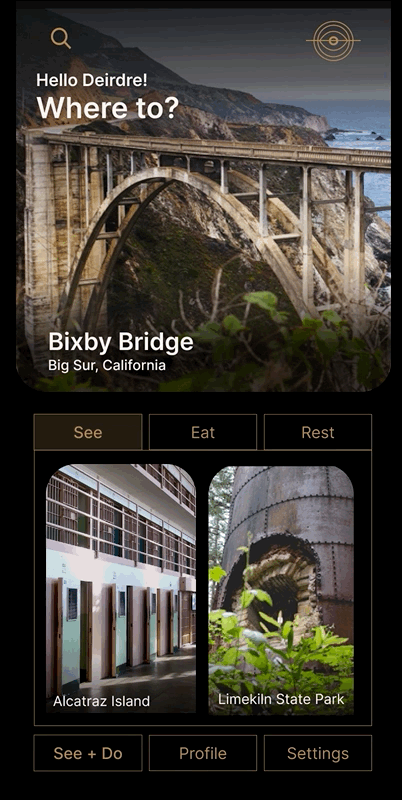 The Project​:




End-to-end UX/UI design of a mobile travel app





My Role:




UX Designer (Individual project)





Tools:




Figma, Miro, Whimsical, Photoshop
User Research
Data Synthesis
Storytelling
Ideation
Prototyping & Testing
Visual Design
Deliverables:
User Research Data

Affinity Diagrams

Competitor Analysis

User Scenario

Persona

Storyboard

Feature Brainstorm

Feature Prioritization Matrix

User Flow

Paper Protoype Sketches

Mid-Fidelity Wireframes & Prototype

Moodboard

Style Tile

High-Fidelity Wireframes & Prototype
AFFINITY DIAGRAMS
​
Next, to examine the data gathered from these conversations. I found it helpful to organize the qualitative data from interviews and the quantitative points from the survey into a series of affinity diagrams. Since this method forces one to identify similarities and group by likeness, it surfaces commonalities and shared experiences among the users.
​
RESEARCH OBJECTIVES
​
Discover how today's young travelers research and select points of interest when planning a trip.

Determine how a user organizes and accesses this information during the planning phase and while on the road.

Gain insight into how a traveler defines a unique experience, and why they value them.
​
I conducted user interviews in order to gain insight into how a traveler defines a unique experience, and why they value them. I spoke with five potential users of this app, all travel enthusiasts aged 27-41.
​
I also distributed an online survey to gather baseline demographic and preference data. The responses revealed that these users focus on cultural immersion, and on finding ways to connect with what makes a place unique, like:
​
Sampling local cuisine or taking cooking classes

Hiking/walking/wandering

Spending time with locals/cultural immersion

Enjoying the arts (museums, exhibits, performances, readings)

Relaxing

Documenting the experience (photographing, filming, recording, journaling, sketching)​
USER PERSONA​
​
Meet Deirdre! As a User Persona, Deirdre informed the way I defined Arcana's goals, features, and user solutions. It's also easy to share this persona with stakeholders and other teams to ensure a unified vision of the user. We follow Deirdre through a User Scenario and a detailed Storyboard to gain a clear vision of our user's motivations, frustrations, and joys.
​
COMPETITOR STRENGTHS
Culture Trip emerged as a clear competitor. The onboarding experience presents a unified, contemporary design concept. It's clear and easy to navigate but obviously aimed at their key demographic (young discerning travelers) - the same users that Arcana aims to attract.
COMPETITOR WEAKNESSES
Every travel app presents the same popular attractions to all users, regardless of their areas of interest.
​
People looking for more unique experiences still have to go hunting for additional resources.
FEATURE IDEATION​
​
Using the I Like, I Wish, What If" ideation technique, I generate feature ideas and possible solutions.
FEATURE PRIORITIZATION MATRIX​
​
Not every idea is both feasible and meaningful, so I then plugged these ideas into a prioritization matrix to weigh the technical complexity of each potential feature against the expected impact on the user.
​
We're more likely to build features that are Low Complexity (requiring less investment of resources) and also High Impact (making the app functional and competitive).
SWOT COMPETITOR ANALYSIS​
​
When establishing the details of the user onboarding flow, it's informative to examine the strengths and weaknesses of similar flows in comparable apps.
PRODUCT IDEATION
PROTOTYPING & TESTING
USER FLOW DIAGRAM​
​
Using the data gathered in Competitor Analysis, I outline an onboarding process that will emulate the competitions' successes and improve upon their shortcomings.
SKETCHES​
​
Sketching the first prototype by hand allows me to ideate on how the onboarding process relates to the physical world in an intuitive, non-commital way.
USABILITY TESTING​
​
I designed and performed remote-moderated user tests on each iteration of the prototype. This process gathers insightful user feedback that hones the product.
​
Some surprising findings include the fact that some of my testers had no experience with the swipe gesture for apps. They also reported that they frequently abandon a new app if it forces them to create an account too soon. These are key usability elements that can have a huge impact on product adoption.
WIREFRAMES + CLICKABLE PROTOTYPES​
​
Wireframes act as an initial blueprint of onboarding screens, with navigation indicators and content placement. When I develop these wireframes into a clickable prototype, I make my ideas testable while retaining the ability to create rapid, agile iterations.
​
Mid-Fidelity Prototype Features:
Compliant with iOS Human Interface Guidelines (HIG)

Clickable and testable
​
VISUAL DESIGN
MOODBOARD​
​
My main inspiration for Arcana's visual style were cabinets of curiosity, (Wunderkammer), some gloom borrowed from my hometown of New Orleans, and the delightfully weird Museum of Jurassic Technology in Los Angeles.
I created a moodboard that establishes a moody, mysterious atmosphere for the app.
​
HIGH-FIDELITY WIREFRAMES​